---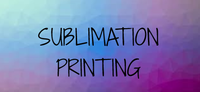 Sublimation Printing
Simply Craft Supplies
Sublimation Prints

We print your designs and you press them

No minimum quantities required

**please note: most orders will take  1-3 days, however, may take 3-5 days depending on communication
*** PRINTS CAN NOT BE USED WITH A HOME IRON OR CRICUT EASY PRESS …. A HEAT PRESS MUST BE USED***
 Before placing your order send your images for approval to simply.supplies@outlook.com and in the subject line put "SUBLIMATION TRANSFER".
We will respond to your email telling you how to proceed with your order.

***THERE WON'T BE ANY REFUNDS OR EXCHANGES SO FOLLOW ALL INSTRUCTIONS***

HOW  TO  ORDER


Measure your desired imaging area on your shirt or substrate, determine what measurements you want your transfer(s) to be...then simply select the sheet size that best fit your measurements.
Email: simply.supplies@outlook.com and in the subject line put "SUBLIMATION TRANSFER
Select your Sheet Size(s) and Quantities.
***"days" are business days Mon-Fri
READY TO PRESS YOUR TRANSFER

*This is a READY TO PRESS SUBLIMATION TRANSFER. You will receive a sublimation transfer of the image. This is NOT a digital file, you will NOT receive a shirt in the mail.*

Application instructions will also be included with your order.

INSTRUCTIONS FOR CLOTHING 
Place a piece of parchment or butcher paper inside the shirt. 
Using a fresh adhesive, lint-roll the surface of your garment where you will be applying your design prior to press to remove any lint.
Press for 5 seconds to get any moisture out.
Place your Sublimation transfer printed side down on the location you would like it on your shirt. 
Use heat tape to keep the transfer from moving. **MUST BE HEAT TAPE**
Cover the shirt with parchment or butcher paper and press at 385 degrees for 60 seconds. Some garments may scorch at that heat. You can also press at 375 degrees for 90 seconds.
Remove from heat press and pull transfer off immediately to prevent any ghosting of the ink
TIPS 
OPTIONAL but highly recommended
Tear away the excess paper from the design. The reason is because when printing sublimation transfers, ink will sometimes get on the corners and edge of the transfer paper. This will prevent any unseen ink from pressing onto your garment. It will also help prevent any straight edge lines from the transfer paper showing on your garment after pressing.
Wait 24 hours before washing.
Do not reuse the same transfer sheet. It only works once.**

THINGS TO KNOW



These transfers do not print white ink. If there is white in the design it will become the colour of the fabric that you apply it to.
Each transfer is a 1 time use only.
Be sure to always use butcher, parchment or printing paper, NEVER use Teflon sheets. Teflon sheets will hold sublimation ink and this can transfer from garment to garment.
Image color may vary slightly due to screen resolution.
Your transfer may appear dull upon arrival, that is because the special ink is heat activated. Once pressed they will be more vibrant.
Sublimation prints should be used on at least a 50% Polyester count garment that is white or light colored. The closer to 100% Polyester the garment the brighter the image will be. The closer to 50% Polyester the more faded and vintage the image will be.
Sublimation transfers will NOT work on cotton or dark colored shirts.
You must use a heat press to apply the sublimation transfer. They cannot be applied with an iron or Cricut Easy Press.

DISCLAIMER
Please do your research on Sublimation prior to ordering as we are not responsible for any pressing errors. If done correctly, your image will be bold and vibrant unless stated so in the listing.

**Due to the nature of this item we do not accept refunds, returns, or exchanges.
***It is your responsibility to look over prints before pressing.