---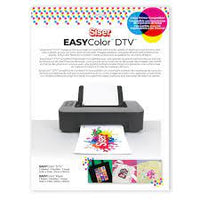 Siser Easy Color DTV
Simply Craft Supplies
Siser® EasyColor™ DTV Direct-To-Vinyl brings printed photos, patterns, complex graphics, and custom colours to the masses. This heat transfer vinyl is compatible with aqueous ink systems such as desktop inkjet printers. Previously, printed HTV required commercial solvent printers or dedicated sublimation printers, largely because of pigment durability and washability (actually, UN-washability). Not any more. Technically, this material is capable of toner (laser) printing. However, the results can be disappointing, so it's not guaranteed.
EasyColor™ DTV offers sufficient opacity for use on both light and dark fabrics. Printed colours stay true without the fabric background colour bleeding through. Despite its block out capabilities, it is still a lightweight material. This provides multiple advantages. It's suitable for 100% polyester fabric. It isn't excessively thick. It is surprisingly flexible and soft. Additionally, EasyColor™ DTV has excellent stretch and rebound. Not only is it more comfortable, but this also makes it capable of applying to Lycra-blend fabrics.
Please note, Siser® TTD Easy Mask is required for applying this product.
Printing & Preparation Instructions
Print on the white side of the film. Don't mirror or reverse the image.
Let the print dry.
Cut and weed as needed.
Apply TTD Easy Mask to the print-side of the graphic.
Carefully remove the backing
Now it's ready to apply.